The lsu hospitals and clinics

Mission-driven to care for the uninsured and provide training opportunities for future health professionals, LSU Health Care Services Division is a statewide safety net system in which everyone is eligible for care.
LSU hospitals, in providing the majority of care to the uninsured patients in the state, support other community facilities by protecting them from a greater share of uncompensated care.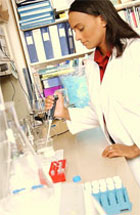 Did you know...?
Sixty percent of all residents and fellows in Louisiana are assigned and trained in the LSU public hospitals at any one time, and practically all at some time in the course of their training programs.

Did you know...?
The percentage of the non-elderly population that is uninsured has climbed steadily from 15.9 percent in 1994 to 17.8 percent in 2004 (with a slight dip of no more than one percentage point around the turn of the century).