LSU Clinics throughout New Orleans Earn NCQA Medical Home Recognition
Baton Rouge (February 13, 2009) – LSU clinics throughout New Orleans have received recognition status as Physician Practice Connections—Patient Centered Medical Homes (PPC-PCMH) by the National Committee for Quality Assurance (NCQA), heralding a superior quality of health care at the clinics.

"This recognition exemplifies the effort that LSU is making to provide quality health care throughout Louisiana," said Dr. Fred Cerise, LSU System Vice President for Health Affairs and Medical Education. "Coordinating care through medical homes is critical to improving the quality of care for our citizens."
The clinics are under the management of the Interim LSU Public Hospital. They are the New Orleans East Community Clinic (5501 Read Blvd.), Frederick Douglass Community Clinic in Bywater (3815 Burgundy St.), Martin Behrman (725 Vallette St.) and Murray Henderson (1911 Hendee Avenue) community clinics in Algiers, the Jackson Barracks Community Clinic (6460 N. Claiborne Avenue) in the Ninth Ward, the LSU Medicine Clinic (1450 Poydras) and the LSU HIV Outpatient Clinic (136 S. Roman St.), both downtown.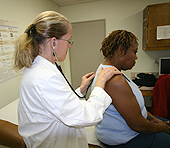 The clinics have met rigorous NCQA requirements to receive this recognition. These points of care provide ongoing preventive and early intervention health care to patients and coordinate specialized care with the Interim LSU Public Hospital when patients require it.

"We continually strive to deliver the best possible health care," said Dr. Roxane Townsend, interim CEO of the hospital. "We evaluate our services according to established best practices to ensure that residents of the Greater New Orleans area receive superior health care in our ambulatory clinics."
The NCQA standards for receiving this recognition are aligned with the joint principles of the American Academy of Family Physicians (AAFP), the American Academy of Pediatrics (AAP), the American College of Physicians (ACP), and the American Osteopathic Association (AOA), which define the key characteristics of the patient-centered medical home.
NCQA worked closely with the four medical specialty organizations and other interested stakeholders to develop the PPC-PCMH, and the specialty societies have supported the standards as the tools to use to recognize practices as medical homes in demonstration projects around the country.
The medical home strengthens the patient-physician relationship by replacing episodic care with coordinated care and a long-term healing relationship. The AAFP, AAP, ACP, and AOA have defined the medical home as a model of care in which each patient has an ongoing relationship with a personal physician who leads a team that takes collective responsibility for patient care. The physician-led care team is responsible for providing all the patient's health care needs and, when needed, coordinating care across the health care system.
A medical home also emphasizes enhanced care through open scheduling, expanded hours and communication between patients, physicians and staff. Many large health plans, as well as Medicare and Medicaid, are planning demonstration projects to learn more about how practices can become medical homes and the quality and cost advantages of doing so.

PPC-PCMH includes nine standards for medical practices to meet, including use of patient self-management support, care coordination, evidence-based guidelines for chronic conditions, and performance reporting and improvement.

To be recognized as a patient-centered medical home, practices need to demonstrate the ability to sufficiently meet the criteria of these standards (i.e., achieve a minimum of 25 points out of 100 to attain the first of three levels of recognition) and specifically pass at least five of the following 10 elements:
Written standards for patient access and patient communication
Use of data to show standards for patient access and communication are; met
Use of paper or electronic charting tools to organize clinical information
Use of data to identify important diagnoses and conditions in practice
Adoption and implementation of evidence-based guidelines for three; chronic conditions
Active patient self-management support
Systematic tracking of test results and identification of abnormal results
Referral tracking, using a paper or electronic system
Clinical and/or service performance measurement, by physician or across the practice
Performance reporting, by physician or across the practice.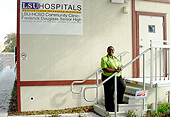 NCQA is a private, non-profit organization dedicated to improving health care quality. NCQA accredits and certifies a wide range of health care organizations and recognizes physicians in key clinical areas. NCQA's Healthcare Effectiveness Data and Information Set (HEDIS®) is the most widely used performance measurement tool in health care.
The LSU Health System - Health Care Services Division is one of the largest public health care delivery systems in the country. It has over 35,000 inpatient admissions, nearly 196,000 inpatient days, 515,500 outpatient visits, 894,000 outpatient encounters, and nearly 244,000 emergency department visits. Each year nearly 500 residents and fellows from the LSU and Tulane Schools of Medicine and Ochsner Health System and 2,200 nurses and allied health students from many colleges and universities are trained in LSU facilities.
LSU is the largest single provider of uncompensated inpatient care in Louisiana. LSU HCSD hospitals have an economic impact of over $1.4 billion in asset business activity, $568 million in personal earnings, and generate over 12,000 jobs.
For more information, contact Marvin McGraw, Director of Communications and Media Relations, LSU Health Care Services Division, 225.922.1424 or mmcgra@lsuhsc.edu.
Physician Practice Connections® -- Patient Centered Medical Home™ is a registered trademark of the National Committee for Quality Assurance.