EKLMC Community Outreach Team Helps People Live Healthy Lives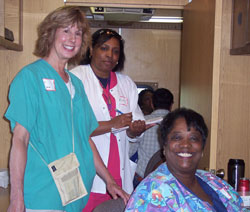 Dr. Laura Cassidy (left to right), Kim Duncan and Hilda Bryant at the Gardere Lane Community Outreach Fair.
Anytime a community health fair is taking place, chances are good that the Community Outreach Team of the Earl K. Long Medical Center Mid City Clinic is in the mix. Hilda Bryant, the team's supervisor and EKLMC health fair coordinator, strongly believes community outreach is part of her team's mission. She receives telephone calls on a weekly basis for her team to participate in a health fair, whether for a church, community organization, or one of the local universities.
The team recently provided sickle cell screening for students at Southern University's "Sickle Cell Empowerment Day," an awareness effort targeting the disease that affects 70,000 Americans. American Idol singer, Ruben Studdard, also made an appearance to generate interest and promote screenings.
Besides sickle cell screening, the EKLMC team provides free cholesterol, glucose, and blood pressure screening in the 16 parishes it serves. EKLMC physicians also participate, making their expertise immediately available to the community.
"We let the community know about all of the health care information and resources available to them and about all of the services that we provide," Bryant said.
This outreach helps people and saves lives—the team encourages at-risk individuals to make an appointment with their primary care physician if their screening results are outside the normal range.
The team members' commitment make it a success. "We work well together," Bryant said. "We make sure the community knows when and where we will be in their area, and we get a lot of positive feedback from the community."
Outreach team members include Melissa Young, screener, Buna Dean, nursing assistant, and Kim Duncan, administrative coordinator.
Due to her well known passion for helping people in the community, Hilda was recently asked by the East Baton Rouge Parish Mayor's Office to be a partner in the Mayor's HealthBR initiative.
This new initiative seeks to decrease the number of obese citizens in the community, emphasizing doing more exercise and adopting healthier eating habits.
Bryant sees the initiative as another opportunity to help people live healthier lives.