LSU Appoints Dr. Juzar Ali Medical Director of the Interim LSU Public Hospital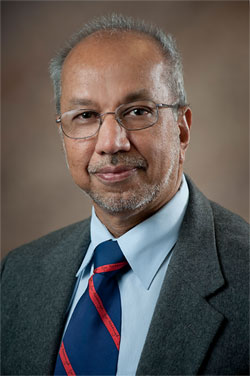 Dr. Juzar Ali
Baton Rouge – The LSU Health System has appointed Dr. Juzar Ali Medical Director of the Interim LSU Public Hospital (ILPH).
A Professor of Medicine in the LSU Health Sciences Center New Orleans (HSC) School of Medicine, Dr. Ali holds the Russell C. Klein, M.D., LSU Alumni Professorship and is former Vice Chair of Medicine for Clinical Affairs in the LSU HSC School of Medicine Department of Medicine, Section of Pulmonary/Critical Care. He is the director of the LSU Tuberculosis Clinics and the OPH Region 1 Metro-Wetmore TB Clinics.
He is a Fellow of the American College of Chest Physicians and the Royal College of Physicians of Canada and a Diplomate of the American Board of Internal Medicine and the American Board of Pulmonary Medicine.
He is the author of chapters in, and serves as co-editor of, Pulmonary Pathophysiology, a symptom-based clinical and pathophysiologic review of lung diseases, whose 2009 third edition is currently under print, and he coauthored Clinical Chest Radiology: PreTest Series for medical students and residents. His scholarship has appeared in numerous peer-reviewed journals including International Union Against Tuberculosis and CHEST.
He has served as a reviewer, by invitation, of the journals CHEST, Annals of Internal Medicine, International Union Against Tuberculosis, Medical Principles and Practice 2002, International Journal of Infectious Diseases, and American Journal of Public Health. His clinical research interests include the diagnosis and management of tuberculous and non-tuberculous mycobacterial disease, and he has participated in various multicenter national and international studies and trials of tuberculosis and atypical mycobacteria. He has made scientific presentations locally, nationally, and internationally.
His impressive scholarship complements his success as a professor, a role in which his students hold him in high esteem, and makes him indisputably well suited for the position of medical director of a teaching hospital. Most recently, in 2008, he received the Allen Copping Excellence in Teaching Award for the School of Medicine and was accepted as a teaching scholar by the LSU HSC Academy for the Advancement of Educational Scholarship. In 2002, he received the Fulbright International Scholar Lecturer Award and, in 2004, the Fulbright Alumni Award. He fulfilled both at Ege University Medical School and Hospital in Izmir, Turkey.
He was inducted into the Alpha Omega Alpha Honor Medical Society as the recipient of its outstanding faculty award in 1997 and received from the LSU HSC Aesculapian Honor Society its Outstanding Professor of the Senior Class award in 1996, 2000, and 2004 and the society's Junior Students' Class Favorite Professor Award in 1997 and 1999. He received the first annual LSU HSC Excellence in Teaching Award in Internal Medicine from the Class of 1998 and also received the LSU HSC Excellence in Teaching awards for the Department of Medicine in 1996, 1997, 2000, and 2004 and in its pulmonary subspecialty in 2007. Besides his teaching, scholarship, and patient care, Dr. Ali has been instrumental in the acquisition of NIH and foundation grants for tuberculosis awareness and education, including the development of the Tuberculosis Education Aimed at Community Health (TEACH) program and www.lsumc-wetmore-tb-info.org. His volunteer activities include increasing TB education, awareness, and screenings for the homeless through community clinics.