Earl K. Long Medical Center Honors Sergeant Stewart for Bravery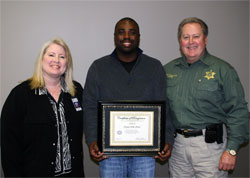 Dr. Kathy Viator (left to right), Sergeant Willie Stewart, and Colonel Bobby Callender of the East Baton Rouge Parish Sheriff's Office.
Dr. Kathy Viator, Hospital Administrator of the Earl K. Long Medical Center (EKLMC), presented to Sergeant Willie Stewart, of the East Baton Rouge Parish Sheriff's Office (EBRPSO), a certificate of recognition for bravery and service to the medical center for his actions on November 24, 2009, when he acted to ensure the safety of EKLMC patients, visitors, and staff.
Sergeant Stewart noticed a woman that day in the EKLMC parking lot acting oddly after she had been instructed earlier in the day to leave the hospital grounds.
When Sergeant Stewart approached the woman, she jumped into her car and refused his repeated requests to get out of the car. He saw bottles of alcohol in the car and an elderly passenger.
He then reached through the car window to get the car keys. When he did, the woman accelerated, dragging the officer across the parking lot, a distance of about 50 feet, as her car hit other cars, a utility pole, and a stop sign.
The last crash jolted Sergeant Stewart free.
Though injured, he jumped into his police cruiser, gave chase, and, with other officers who joined the pursuit, apprehended the woman several miles away. Sergeant Stewart was then taken for emergency treatment of his injuries.
"Sergeant Stewart put himself in danger to ensure the safety of others," said Dr. Viator. "Being brave is part of their job," she said in reference to Stewart and other officers present for the presentation of the certificate to him. "But to us as civilians, being brave is the exception. Sergeant, you are our hero."
Dr. Viator also gave wholehearted thanks to the officers for their daily work at EKLMC.
Sergeant Stewart joined the EBRPSO in 1998 working in Parish Prison. He then worked in uniformed patrol and as a general detective before his present assignment as a shift sergeant for armed robbery and burglary.
The EBRPSO also named Sergeant Stewart "Deputy of the Month" for his actions at EKLMC and "Deputy of the Year" for his honorable service to the EBRPSO.