UMC Nurses Honored at Acadiana Celebrates Nurses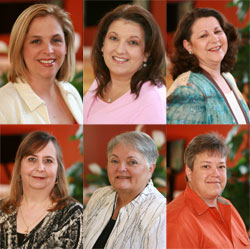 From left to right: (top row) Jana Edney-Poole, Melissa Nunez, Valarie Monte; (bottom row) Ella Menard, Jan Hiatt, Karen Comeaux.
District IV of the Louisiana State Nurses Association recently celebrated its twelfth annual Acadiana Celebrates Nurses program in recognition of National Nurses Week. Of the 25 top nurses in the district honored at the event, six are at University Medical Center. The following are those at UMC who were selected.
Jana Edney-Poole, RN, BSN, CCRN, a graduate of the University of Southwestern Louisiana, was instrumental in the extensive expansion of UMC cardiology services. Under her guidance, the cardiology unit has grown and become more accommodating to both patients and staff. With an expert hand, she brings out the best in her staff.
Her expertise as a supervisor extends to hospital management. Other managers depend on her for counsel. Jana daily sees dedication to the nursing profession in those around her and has great respect for her fellow nurses, who are always there for patients, twenty-four hours a day, seven days a week.
A graduate of LSU in New Orleans, Melissa Nunez, RN, BSN, CCRN, moved to Opelousas after Hurricane Katrina destroyed her home, but she continued to drive to New Orleans for two years after relocating because of her dedication to her patients. As a seven year old, she visited a cousin in the Children's Hospital ICU, where a nurse who talked to her about the profession so profoundly influenced her that she decided then and there to become a pediatric nurse.
Melissa's heroes are Florence Nightingale and Jan Kaheler, who taught Melissa to always give all to her patients. She strives to make a positive impact on each patient, such as buying fashionable bandanas for a 12- year-old girl who was receiving chemo to wear, making a difficult time in her life a little easier.
Valarie Monte, RN, CCRN, a graduate of LSU – Eunice, has spent much of her career in the critical care setting. This demanding environment has given her extensive experience and the skill sets necessary for her role as RN House Manager. The epitome of the team player, she is always available whenever a nursing unit needs assistance, regardless of the task.
She truly admires med/surg nurses for their in-depth knowledge and organizational and time-management skills. Her love of nursing is the source of her highly energized, positive attitude, and her nurturing nature and compassion for others are deeply rooted in this love.
As soon as Ella Menard, RNC, a graduate of LSU – Eunice, walked through a neonatal ICU she knew where she wanted to be. She has spent the last 16 years in the NICU, exhibiting an unwavering dedication, despite the demands. Her heroes, Barbara Lorio and Carolyn Hebert, taught her to give herself completely to every infant who enters the unit, so Ella has always given her utmost attention, heart and highly honed skills to each patient in her care.
Though nursing is not an easy job, she finds it to be rewarding, fulfilling her desire to help the most helpless, the infants in the NICU.
Though Jan Hiatt, RN, BSN, a graduate of the University of Southwestern Louisiana, has spent many years in maternal/child nursing, she expanded her horizons, helping others and UMC to be better. As the one-person performance improvement department, she makes understandable the process of performance improvement and is an invaluable resource for evidence-based practice data. Her ability to develop, implement, and evaluate nursing processes is essential for UMC quality improvement.
She admires nurses who are on hand for patients, families and each other in the demanding environment of daily patient care and also in the highly stressful times of receiving patients evacuating from other hospitals due to hurricanes or moving UMC patients out of a storm's path.
Karen Comeaux, RN, BSN, a graduate of the University of Southwestern Louisiana, has spent many years in the ER and ICU and has striven to ensure a safe work environment for UMC staff. Now House Manager at UMC, she oversees the smooth operation of inpatient and outpatient nursing services and the transport of patients, and, in general, she ensures that all patients receive quality care.
Though she has tremendous responsibility for a large patient population, she always recognizes the individual, greeting each employee and patient she encounters. She has the complete respect of fellow nurses, maybe the highest accolade in the profession, who consider her to be the type of nurse they would want for their own care and their families' care.
For more information, photos, bios and an online copy of the event program, go to www.districtivnurses.com.