---
Tree of Life Gives Hope Year Round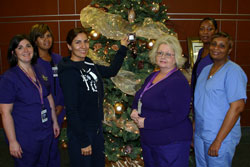 Michelle Bonano, RN, Michelle Lewis, RN, Maria Hermosilia with photo ornament in hand, Jeanie Gremillion, LPN, Rona Tucker, CNM, and Tori Carter, LPN.
Baton Rouge -- Staff of the LSU North Baton Rouge Clinic has created the gaily decorated Tree of Life in the clinic lobby as an enduring symbol of hope, renewal and growth for its newborn and oncology patients. Ornaments on the tree contain photos of clinic patients, visible reminders of the good work the staff performs.
"We celebrate our newborn babies. Photos of their little faces decorate our tree alongside photos of our brave oncology patients," said Jeanie Gremillion, LPN, who was an impetus in developing the tree for the clinic. "Their struggles to come into this world are not unlike our cancer patient's struggles in their determination to live."
One ornament gracing the tree bears the photo of Maria Hermosilia, a patient of Dr. Jacob Estes, the clinic gynecological oncologist. Diagnosed with inoperable cervical cancer, she received chemotherapy at the LSU North Baton Rouge Infusion Clinic and radiation therapy at Mary Bird Perkins. Bravely persevering in her fight for life no matter how many times the side effects of her therapy overwhelmed her, she has returned to work as a school teacher and continues follow up at the clinic.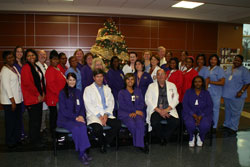 Clinic staff include the following: ROW 1 Judi Jareau, LPN, Dr. F. A. Moore, Michelle Lewis, RN, Dr. Michele Bourgeois, and Loravis Davis, RN. ROW 2 Alicia Sanders, Admit. Coord, Gladys Brown, Admit. Coord., Rona Tucker, CNA, Jeanie Gremillion, LPN, Cassandra Richard, LPN, Michelle Bonano, RN, Rebecca Davis, CNM, Karla Williams, Admit. Coord., Ashley Hughes Admit. Coord., Cynthia Lathers, CNA, Sherhonda Gray, CNA, and Virginia Davis CNA. ROW 3 Queen Kitaki, HAT, Brandi Payne, LPN, Dr. Andrew Montz, Jerelyn Thorton, Admit. Coord., Joan Dooley, LPN, Cheryl Coleman, LPN, Carrie Aillet, CNM, Dr. Ashley Cowart, Dr. Wayne Sparks, Tori Carter, LPN, and Kim Carlin, HAT.
"We celebrate her and all of our oncology patients who never give up this gift that we call life," said Gremillion.
Staff decorates the tree year round to fit the season, evoking a tree's perennial nature. Traditional Christmas tree decorations adorned the tree in December, then gave way to Mardi Gras decorations for the Carnival season.
Emiley Bonano, the daughter of Michelle Bonano, RN, clinic oncology case manager, and her second grade class at St. Alphonsus Catholic School have adopted the tree for Easter.
Summer is then around the corner. "We'll be decorating for Memorial Day and July fourth, then for LSU and Southern," Gremillion said. "One of our oncology patients will paint ornaments for us."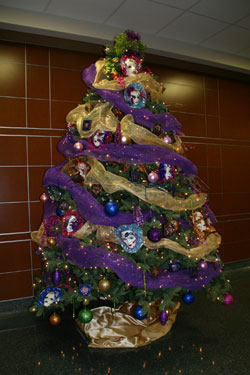 The Tree of Life symbolizes the hope patients receive throughout the year due to the clinic's quality healthcare.
Clinic OB-Gyn faculty doctors donated the tree. Ace Storage sponsors it, providing financial support. Staff also pitches in for this labor of love. For instance, Gremillion and Michelle Lewis, RN, manager of the LSU North Baton Rouge Woman's Clinic, bought Mardi Gras and Christmas decorations, and Gremillion, besides using her own Easter decorations, bought more as well. The two alone have spent hundreds of dollars.
"This is not a cheap project, but the way patients respond is worth it. They tell us they actually look forward to coming in so they can look at it," Gremillion said. "The Tree of Life reminds us who we truly are here for."