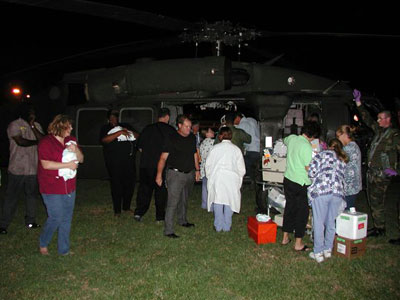 Infants evacuated from Charity and University Hospitals arrive at University Medical Center.
When Hurricane Katrina hit, University Medical Center (UMC) opened its safety net in twofold fashion, transforming the provision of healthcare in the region. In the days after the storm, UMC first received those in need fleeing New Orleans. A few weeks later, it then received students, residents, and staff of LSU Hospitals who were re-establishing their lives and livelihoods because the storm had destroyed the Medical Center of Louisiana at New Orleans (MCLNO).
Immediately after Katrina, UMC opened additional beds and reorganized its nonpatient-care and clinic nurses to receive LSU HCSD patients from New Orleans, but FEMA dispersed these patients nationwide. Therefore, UMC didn't receive the immediate influx it had anticipated. However, this well-intentioned federal action created another crisis: dispersed patients were separated from their families, many of whom were also displaced—neither knew where the other was. UMC staff adroitly adapted: it established a group of employees who made almost 1,000 phone calls to reunite dislocated family members.
The mass of evacuees migrating from New Orleans quickly swelled in Lafayette. Healthcare needs soon reached critical proportions. To stem this crisis, the state of Louisiana and the city of Lafayette soon established an evacuation shelter and a special needs shelter, where UMC nurses and doctors, alongside those from private practices and hospitals, attended to patients.
UMC also established a special needs clinic, and it soon began receiving patients of all kinds en masse from New Orleans. The hospital and outpatient censuses quickly climbed. UMC used volunteer nurses from California and the National Health Services to relieve the nonpatient-care and clinic nurses who were working overtime. Vendors donated supplies and equipment to meet the increased demand.
LSU Hospitals exhibited impressive agility. UMC handled with aplomb this sudden increase in new patients. It then took on additional medical students, residents, physicians, allied health staff, and services, unfolding its net once more to provide the continuation of education and healthcare that these in the LSU family had pursued before the destruction of MCLNO.
Role Reversal Serves UMC Well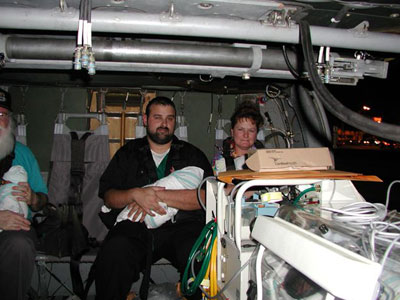 In the safe hands of a dedicated staff.
When UMC staff extended its healthcare safety net in August 2005, they had no idea that a month later they would be on the opposite side of the net. In late September, they watched, with disbelief, as Hurricane Rita drifted west northwest across the gulf toward southwest Louisiana with winds topping 140 miles per hour.
Rita would eventually make landfall near the Texas-Louisiana border, punishing southwest Louisiana with tornadoes, relentless winds, and massive flooding.
Well before the hurricane hit, LSU HCSD, UMC, and Huey P. Long Medical Center (HPLMC) mobilized helicopters, ambulances, buses, and automobiles to transport patients and staff from UMC to HPLMC in Alexandria and babies to Woman's Hospital in Baton Rouge.
HCSD did not wait for the calvary this time around. Evacuation logistics and emergency personnel mobilized two days before landfall. Essential UMC personnel remained at the medical center for what would be a category 3 hurricane.
HPLMC in Pineville now played the role UMC had a month earlier: it wholeheartedly welcomed and cared for UMC patients and staff, providing shelter from the storm, until UMC staff could return home and ease the suffering of those whose towns Rita had obliterated, just south of Lafayette.