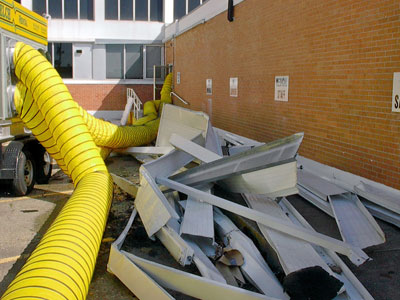 Extensive damage to each floor of WOMRMC forced it to close for nearly a month following Hurricane Rita.
Hurricane Rita ripped apart southwest Louisiana and did not spare the Dr. Walter O. Moss Regional Medical Center (WOMRMC). Well aware of the impending danger before Rita hit, WOMRMC evacuated patients to Huey P. Long Medical Center on September 22, 2005.
Ugly Rita arrived on the 23rd, wrecking the region with a tremendous storm surge and Category 3 hurricane winds. It did not miss WOMRMC.
Each floor of WOMRMC received extensive damage. Surgical suites and buildings housing the departments of social services, patient advocacy, infection control and infectious diseases were severely damaged.
WOMRMC was closed for repairs for nearly a month, then reopened for limited services. Calcasieu Parish was closed to nonessential citizens for three weeks, but the employees of WOMRMC served as volunteers in shelters and rebuilding efforts and donated to community-based organizations assisting those whom Rita harmed.
All departments at WOMRMC opened by late 2006, and it added a walk-in clinic.
Even before Hurricane Rita, WOMRMC employees shared a sense of commitment to those in their immediate community and to the community at large.
Just weeks before Rita, as Hurricane Katrina approached, WOMRMC gathered supplies for a special needs shelter at McNeese University. WOMRMC provided lab services for the shelter and filled many prescriptions for those fleeing Katrina. WOMRMC employees worked at shelters throughout greater Lake Charles, only to evacuate with their patients a few weeks later.
In this dire time, WOMRMC illustrated the versatility and strength of an integrated hospital system. With access to the LSU HCSD telemedicine system, WOMRMC Department of Health Information generated medical records for Medical Center of Louisiana at New Orleans (MCLNO) patients who were in Lake Charles. The elasticity and safeguards of the telemedicine system allowed WOMRMC staff to serve LSU HCSD patients regardless of their place of origin.
WOMRMC Offers Road to Recovery for Mrs. Conway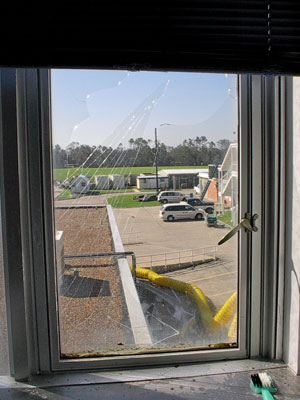 As powerful as Katrina, Hurricane Rita blew out windows at WOMRMC.
Mrs. Jovita Conway, a patient of the WOMRMC Congestive Heart Failure Clinic and MCLNO, testifies to the collaborative strength of the LSU HCSD. Two days before Katrina hit, on the referral of her WOMRMC primary-care physician, Mrs. Conway received open-heart surgery at the MCLNO.
After the storm wrecked the city, Mrs. Conway, still an ICU patient, was floated out of the hospital on a mattress to a boat that carried her through the flooded streets to dry ground and an ambulance that sped her to Baton Rouge.
Several weeks later, Mrs. Conway returned to Lake Charles. The WOMRMC Congestive Heart Failure Clinic replaced all of the medicine she had lost in Katrina, giving her a six-week supply.
Then the arrival of Rita put Mrs. Conway on the road again, delaying her rehabilitation. Despite the one-two punch of Katrina and Rita, Mrs. Conway persevered and has enjoyed a remarkable recovery due to the collaboration and dedication of the staffs of WOMRMC and MCLNO.