* Live Longer with Lallie Kemp *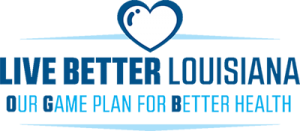 Stress, depression and the holidays: Tips for coping
The holiday season often brings unwelcome guests – stress and depression. The holidays present a dizzying array of demands – parties, shopping, baking, cleaning and entertaining, just to name a few. It's no wonder the stress of such a demanding schedule would ruin your holidays and possibly hurt your health.
But with some practical tips, you can minimize the stress that accompanies the holidays and you may even end up enjoying them more than you thought you would.
1. Acknowledge your feelings – If someone close to you has recently died or you can't be with loved ones, realize that it is normal to feel sadness and grief. It's OK to take time to cry or express your feelings.
2. Reach out – If you feel lonely or isolated, seek out community, religious or other social events. They can offer support and companionship. Volunteering your time to help others is also a good way to lift your spirits and broaden your friendships.
3. Be realistic – The holidays don't have to be perfect or just like last year. As families change and grow, traditions and rituals often change as well. Choose a few to hold on to and be open to creating new ones.
4. Set aside difference – Try to accept family members and friends as they are, even if they don't live up to all of your expectations. Set aside grievances until a more appropriate time for discussion.
5. Stick to a budget – Before you go gift and food shopping, decide how much money you can afford to spend. Then stick to your budget. Don't try to buy happiness with an avalanche of gifts.
6. Plan ahead – Set aside specific days for shopping, baking, visiting friends and other activities. Plan your menus and then make your shopping list. And make sure to line up help for party prep and cleanup.
7. Learn to say no – Saying yes when you should say no can leave you feeling resentful and overwhelmed. Friends and colleagues will understand if you can't participate in every project or activity. If it's not possible to say no when your boss asks you to work overtime, try to remove something else from your agenda to make up for lost time.
8. Don't abandon healthy habits – Don't let the holidays become a free-for-all. Overindulgence only adds to your stress and guilt. Try these suggestions:
a. Have a healthy snack before holiday parties.
b. Get plenty of sleep.
c. Incorporate regular physical activity into each day.
9. Take a breather – Make some time for yourself. Spending just 5 minutes alone, without distractions, may refresh you enough to handle everything you need to do.
10. Seek professional help – Despite your best efforts, you may find yourself feeling persistently sad or anxious, plagued by physical complaints, unable to sleep, irritable and hopeless, and unable to face routine chores. If these feelings last for a while, talk to your doctor or a mental health professional.
Don't let the holidays become something you dread. Instead, take steps to prevent the stress and depression that can descend during the holidays. Learn to recognize your holiday triggers, such as financial pressures or personal demands, so you can combat them before they lead to a meltdown.
---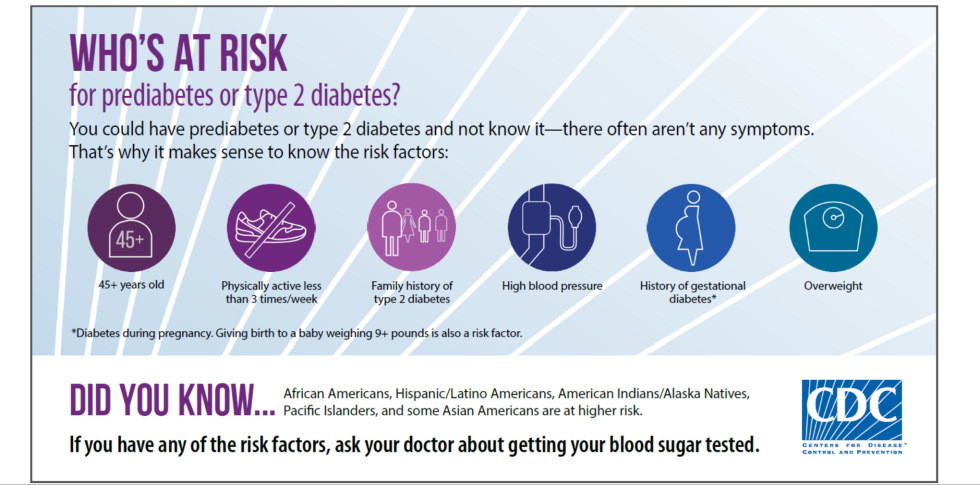 Visit the CDC Website for more information.
---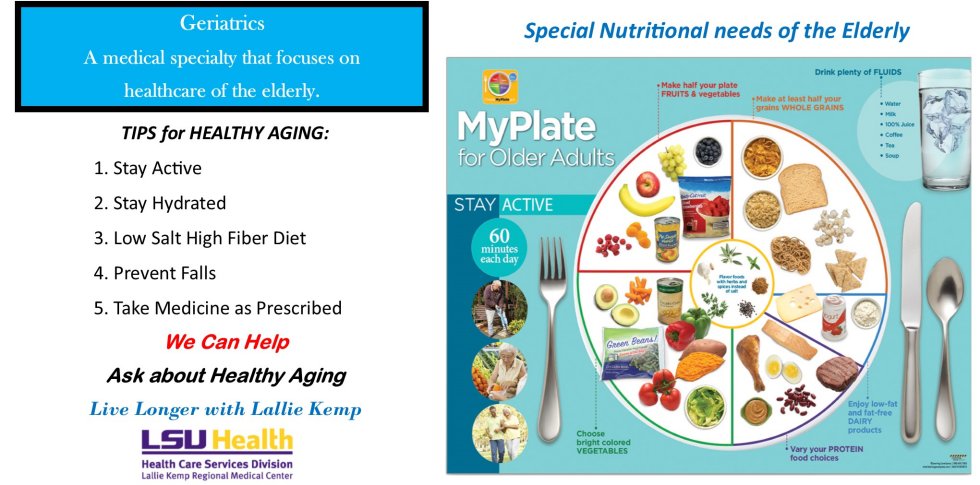 Link to recipies:
Senior Chef - Easy Recipies for One or Two
aPlaceforMom - 25 Easy Recipes for Senior Nutrition 
Resource Guide for Senior Citizens
The Aging and Disability Resource Center Serving Louisiana
Website designed to assist older adults in finding information about long term supports and services.
Phone: (225) 342-7100  www.louisianaanswers.com
Lallie Kemp 340b Program
Offers a wide variety of drugs available at 8 dollars for up to three month supply.
Phone: 985-878-1317  http://www.lsuhospitals.org/lak/pharmacy.aspx
SeniorRX Program
LouisianaSenioRx.org is a program that connects qualified, low-income people with discount prescription drugs, direct from the pharmaceutical manufacturer.
Phone 225-287-7414  http://www.louisianaanswers.com/index.php?option=com_content&view=article&id=88&Itemid=487
Benefits Check Up
There are over 2,500 benefit programs available nationwide. Find out what benefits may be available in your area. https://www.benefitscheckup.org/
Senior Health Insurance Information Program - SHIIP
The Senior Health Insurance Information Program (SHIIP) helps Medicare beneficiaries better understand their Medicare coverage options and benefits. Counselors help seniors make informed decisions by providing free and unbiased guidance via telephone or face-to-face interactive sessions. 
Phone: (225) 342-5301 or 1-800-259-5300    http://www.ldi.louisiana.gov/consumers/senior-health-shiip
Medicare -  https://www.medicare.gov/     Medicaid— https://www.medicaid.gov/index.html
Healthy Aging - CDC: https://www.cdc.gov/aging/aginginfo/index.htm
Healthy Aging - NCOA National Council on Aging:  https://www.ncoa.org/healthy-aging/
TANGIPAHOA COUNCIL ON AGING
Hot, well-balanced meals served M-F at five ​SENIOR CENTERS ​located throughout Tangipahoa Parish with activities such as Bingo, Computer and Art Classes, exercise at some Centers, socialization, fun, companionship, information and assistance.
Phone: 985-748-7486  http://www.tangicoa.com/services.html
Amite Senior Center                Hammond Senior Center             Independence Senior Center
113 N. E. Central Avenue         207 East Church Street                  305 E. Railroad Avenue
Amite, Louisiana 70422            Hammond, Louisiana 70401           Independence, Louisiana 70443
(985) 748-7617                         (985) 345-5000                               (985) 878-4385
Kentwood Senior Center        Ponchatoula Senior Center          Tickfaw Meal Site
218 Avenue F                           300 North 5th Street                         Hwy 51 North & Second Street
Kentwood, Louisiana 70444     Ponchatoula, Louisiana 70454         Tickfaw, Louisiana 70466
(985) 229-5089                         (985) 386-6061                                 (985) 345-1172
Southeast Louisiana Legal Services Corporation
Phone: (225) 225-448-0080 or 1-855-512-3980  www.lawhelp.org/la
Serving St. Helena, Tangipahoa and Washington Parishes.
---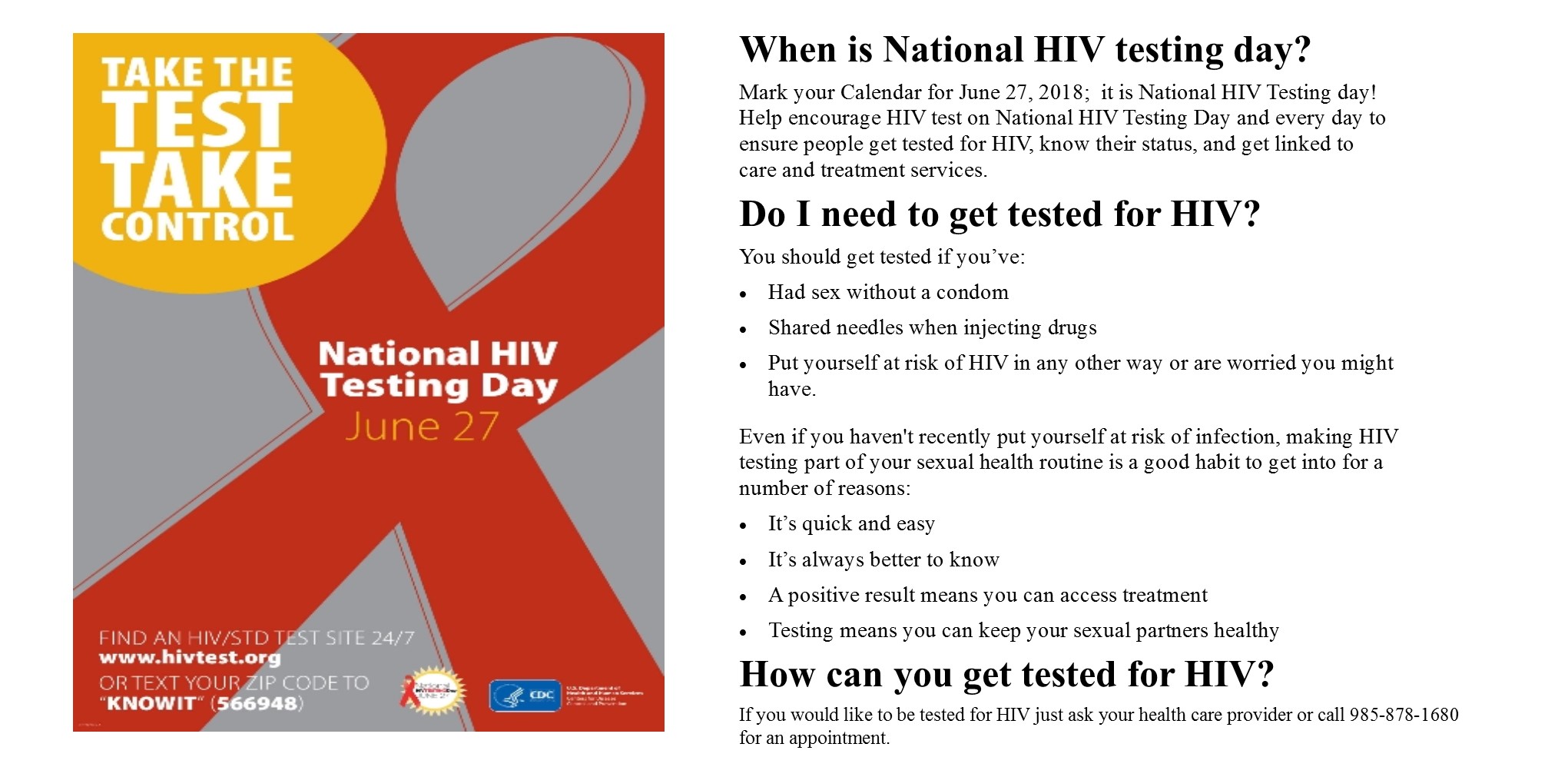 Visit the CDC Website for more information.
---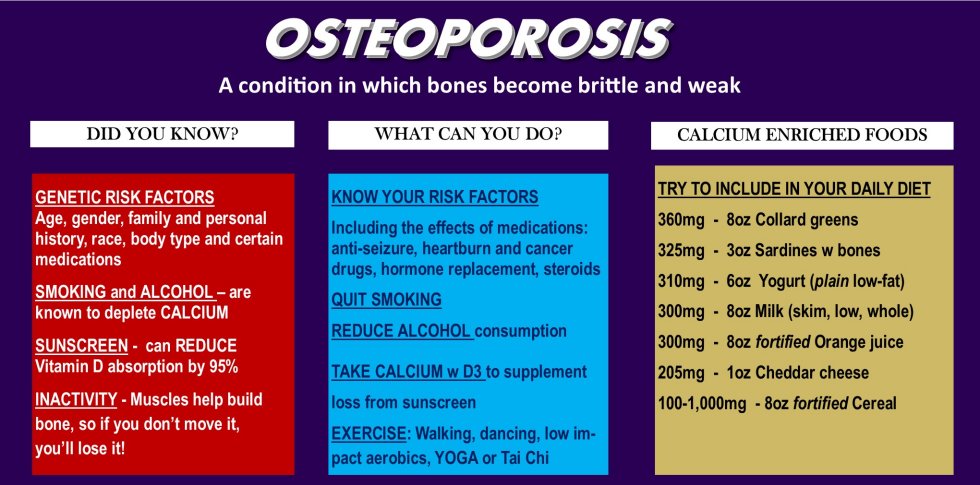 Visit the The National Osteoporosis Foundation Website for more information.
---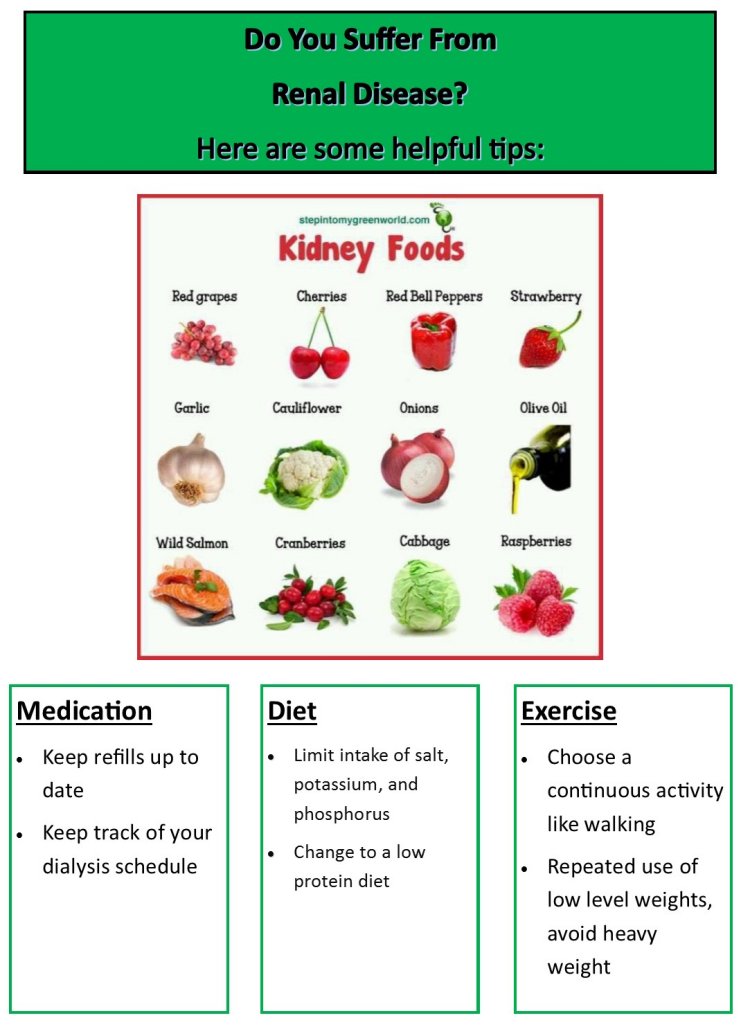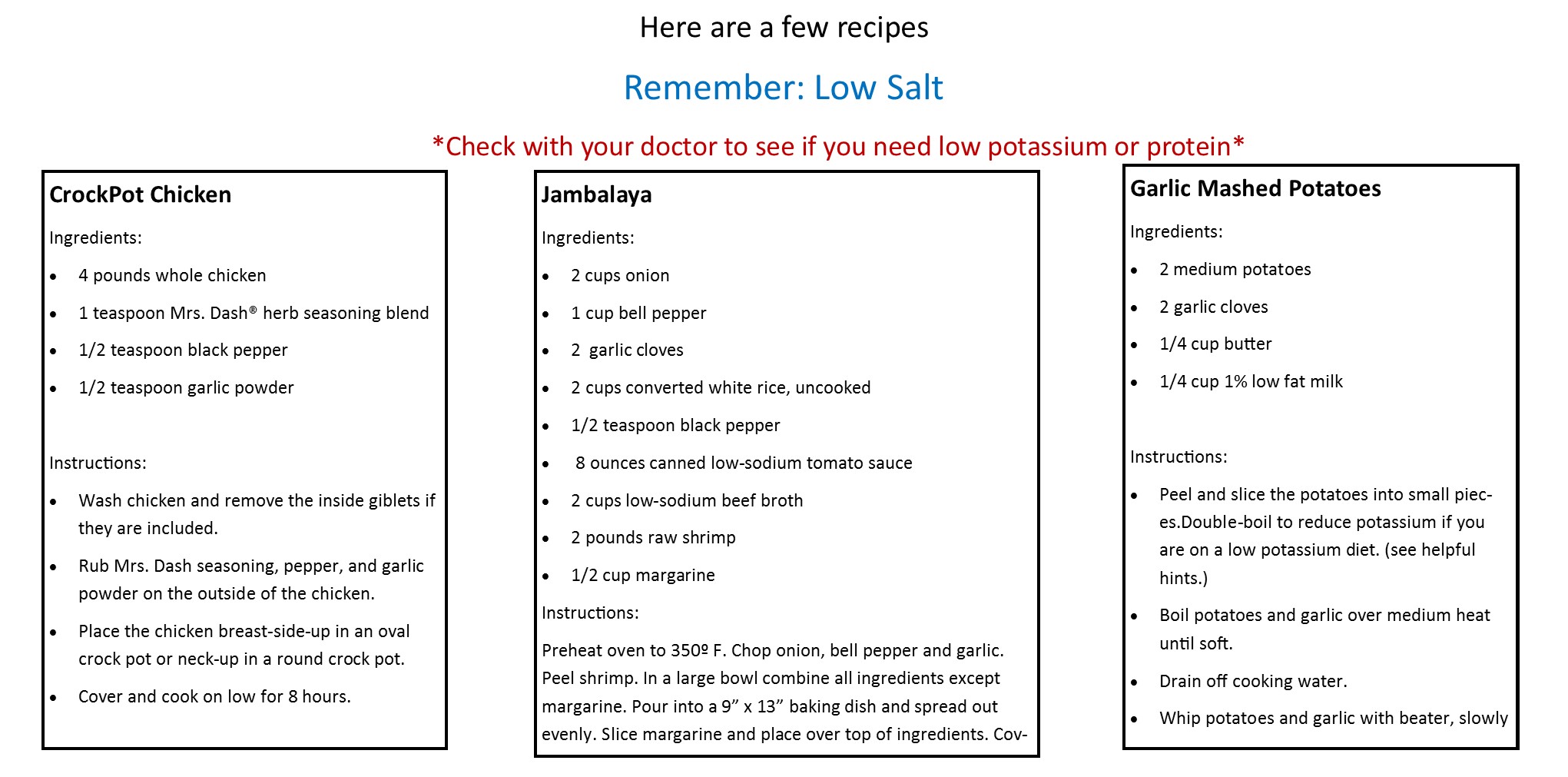 Visit https://www.davita.com/recipes/ for more recipes.
---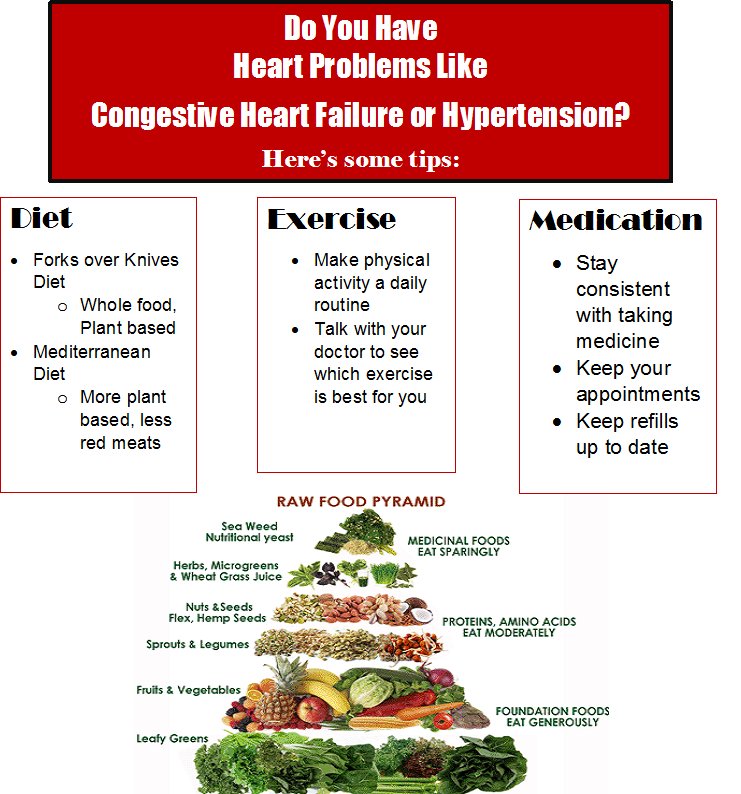 PLANT BASED DIET LOW IN CHOLESTEROL, RED MEAT and SALT
Forks over Knives Diet - http://www.forksoverknives.com/
Ex. Recipe: Baking powder Biscuits with Almonds
| | |
| --- | --- |
| 1 cup plant-based milk | ½ cup almond meal |
| 1 tablespoon apple cider vinegar | 1 tablespoon baking powder |
| 1½ cup whole-wheat pastry flour | ½ teaspoon salt |
Instructions:

1. Preheat oven to 450°F.
2. Combine plant-based milk and vinegar in a glass. Let sit for 5 minutes.
3. Mix together pastry flour, almond meal, baking powder, and salt in a large mixing bowl.
4. Add the soured milk to the dry ingredients, and mix until all ingredients moistened; avoid over-stirring.
5. Drop dough by large spoonfuls onto a nonstick baking sheet.
6. Bake for 10 to 12 minutes, until lightly browned.
Mediterranean Diet - http://www.mediterraneandiet.com/
Ex. Recipe: Mediterranean Chicken Salad
| | |
| --- | --- |
| 1 can (12.5 oz each) chunk chicken breast, drained | 1 can (14.5 oz each) Hunt's® Diced Tomatoes with Basil, Garlic & Oregano-No Salt Added, drained |
| 1/3 cup light mayonnaise | 1 cup chopped unpeeled, seeded cucumber |
| 2 teaspoons Gulden's® Spicy Brown Mustard | 1/4 cup crumbled reduced fat feta cheese |
Instructions

Combine chicken, mayonnaise and mustard in medium bowl. Gently stir in drained tomatoes and cucumber just until combined. Sprinkle with cheese. Serve immediately.
FOLLOW LINKS FOR MORE RECIPES!!!
Additonal Resources
https://www.choosemyplate.gov/
---
---
Lallie Kemp Regional Medical Center
52579 Hwy 51 South, Independence, LA 70443
(985) 878-9421 | map | directions