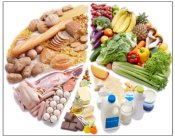 Do you have questions about how to eat healthy?
At Lallie Kemp, we have available to you Registered Dietitians that provide:
· Diabetes Basics classes — Learn about what diabetes is, blood sugar goals, Hemoglobin A1C, diet, exercise, and much more!
· Diabetes Nutrition classes  — Learn about how to control your diabetes with a class that  goes more in-depth into nutrition and exercise for diabetes.
· Weight loss classes — Meet once a week, for up to 16 weeks of classes, to learn how to lose weight the healthy way!
· Individual Medical Nutrition Therapy appointments — See the dietitian for one-on-one appointments to discuss your nutrition during kidney disease, heart failure, high blood pressure, diabetes, weight loss, weight gain, Coumadin, gout, nutrition during cancer, general healthy nutrition, and much more!
All you need is a referral from your Primary Care Provider. Please ask us today if you are interested in speaking with one of our dietitians.

If you have any questions, please call one of our Dietitians at:
985-878-1689
 Or
985-878-1305
---
Lallie Kemp Regional Medical Center
52579 Hwy 51 South, Independence, LA 70443
(985) 878-9421 | map | directions